---
Leo Forum 2009*taken from lions district 308 B2 website*


36th MD 308 Leo Forum will be organised by 308 B2 on 5-7th May, 2009 in Penang. For offical programme, click here. To register as Lions or Faculty participant, click here

Message from DC Leo Lion May Cheah:

Dear Cabinet Officers ,
Dear Club Presidents & members,


Warmest greetings from the Organising Committee of the 36th Multiple District 308 Leo Forum 2009.!!

District 308 B2 is once again hosting this annual event, which will be held in Penang as follow:

Date : 5th - 7th June 2009
Venue : Sunshine Banquet Hall, Bayan Lepas, Penang
Theme : Moving Forward… Youth of the New Era


Leo Forum is an annual event organized for Leos throughout Malaysia, Brunei and Singapore with the objectives of providing a platform for the Leos to meet, and arena to share, exchange ideas and knowledge and to recognize the deserving Leos and their clubs for their outstanding performance.

We would like to invite all of you to this forum. Registration closes on 31st March 2009.

Please do not hesitate to contact the followings if you required any further information

Forum Chief Advisor DC May Cheah 012-425 3386
FOCC Leo Wah Si Sheng 012-500 1367
Deputy FOCC (Admin) Leo Ooi Zhi Yi 012-475 8989


Thank you in advance.

"Simply , We Serve"

May Cheah
DC Leo Clubs

---
KEPONG BARU'S IR NIGHT!!!!!


KB's IR night is coming soon and you don't want to miss out. Parody Night's the theme so dress up!


Visit here for more details :-


---
Chinese New Year Greetings.


It's time to ring in another Chinese New Year that everyone has been waiting for. As the year of the Ox begins, we from the Leo club of Smk Kepong Baru wishes everyone a happy and prosperous new year!
GONG XI FA CAI!!


---
---
Happy holidays and good luck for SPM candidates!


---



The long awaited camp is finally here! Those who are interested in attending the camp can download the details here. Also , for further enquires please refer to our president , Leo Fong Hsin Yung.


---
On the 12th of July 2008, Leo Club of SMK Kepong Baru held the following activities by a total of 33 of its club members with the goal of raising funds for the club during the school open day.

The first activity which took place at the school assembly ground and field was a car wash. This activity was held from 8.00 am to 10.00 am by a total of 29 club members under the leadership of team leader, Leo Benedict Lim.

The Leo members were divided into several groups with each group carrying out a different task. This ensured that the car wash activity was carried out in an organized manner.

Approximately 35 customers consisting of teachers and parents alike queued up for this service at RM6.00 per vehicle. All the members of this team worked well and delivered full satisfaction to all its customers with clean, gleaming cars.

A sale of ice cream which was the second activity took place from 8.00 am to 12.00 pm
at the front gate of SMK Kepong Baru. Parents who arrived for the school open day were attracted to the sale of refreshing ice cream on a hot day at a reasonable cost. This activity was conducted by 4 Leo club members under the leadership of team leader, Leo Low Tze Chien.

Leo Club of SMK Kepong Baru managed to raise RM during the above activities. All the participants worked hard and managed to make this event a success and are patiently awaiting the next opportunity to participate in events for charity under the Leo Club.

We serve with passion and care.
Report prepared by,

LEO BENNEDICT LIM

Vice OC of Open Day Sales Dated: 24th July 2008










---

-21/6/08
The SMKB Leo Club sold Cheesy Wedges, Cheesy Dogs, Marshmallow coated with Chocolate and Sparkling Soda on SMK Kepong Baru's Carnival Day.
Here are some of the photos snapped :-


Organizing Chairperson : Leo Abby Thooi


---
B.O.D Name Cards
-13/6/08


The new name cards for fiscal year 08/09 are out and ready to be given out. This is a draft example of how it looks like :-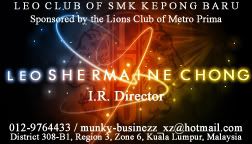 FRONT BACK

However the actual name card may not look this good due to printing defects :( boo
To those who have not pay for the name cards please pay RM33 to our president , Leo Fong Hsin Yung preferrably asap.
Hope you guys like it .